Flexible PVC Strip Curtain Doors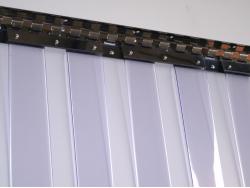 Flexible PVC Strip Curtains Doors available as Ready to Hang Curtains and 50 Metre Rolls
---
********* Call us: 0114 244 6357 *********
PVC Strip Curtain Applications
Suitable for Doorways and partitions of all sizes. Ideal for use in Warehouses, Food Processing Environments, Manufacturing, Butchers, Bakers etc.
Reduces heat loss for a more comfortable working environment
Reduce dust and material contamination between two areas
Reduce noise levels (health and safety)
Maintain cold temperatures in fridges and freezers
Reduce insect nuisance
Reduce visibility in sensitive areas
Maintain access
Ready to Hang PVC Strip Curtain Doors
All strips are cut to size with 'Hanging Plate' assembly attached to each strip and supplied complete with 'Hanging Rail'. Simply fix the rail in place and hang the strips.
Our PVC is high quality, DOP free, home produced, beautifully clear material. All metalwork is high quality, non-ferritic stainless steel (will not rust).
PVC Strip Curtain Material and Fixings
Our Flexible PVC can also be purchased in full 50m Rolls along with all the Hanging Plates and Hanging Rails. Low Temperature Polar Grade, Standard Ribbed, Ribbed Polar and Colours are also available upon request.
All PVC Rolls are available in a range of Widths and Thickness. The Hanging Plates and Hanging Rail are also available in a range of different sizes.
Flexible PVC Strip Curtain Doors purchase details and options
Options
Price
Purchase
200mm x 2mm Clear Flexible PVC Strip 16m Roll
£25.00
(excl VAT)
200mm x 2mm Clear Flexible PVC Strip 25m Roll
£35.00
(excl VAT)
200mm x 2mm Clear Flexible PVC Strip 50m Roll
£65.00
(excl VAT)
200mm x 3mm Clear Flexible PVC Strip 50m Roll
£108.33
(excl VAT)
300mm x 2mm Clear Flexible PVC Strip 50m Roll
£108.33
(excl VAT)
300mm x 3mm Clear Flexible PVC Strip 50m Roll
£145.00
(excl VAT)
400mm x 2.5mm Clear Flex PVC Strip 50m Roll
£200.00
(excl VAT)
400mm x 4mm Clear Flexible PVC Strip 50m Roll
£280.00
(excl VAT)
Stainless Steel Clamp Fixings - 100 Pop Rivets
£8.00
(excl VAT)
Stainless Steel Clamps - 200mm
£2.00
(excl VAT)
Stainless Steel Clamps - 300mm
£3.00
(excl VAT)
Stainless Steel Clamps - 400mm
£4.00
(excl VAT)
Stainless Steel Hanging Rail - 0984mm
£12.00
(excl VAT)
Stainless Steel Hanging Rail - 1230mm
£16.67
(excl VAT)

0114 244 6357
Hygienic Plastics Ltd, Unit 3, Carbrook Business Park, Dunlop street, Sheffield S9 2HR