Hygienic Plastic Ceiling Cladding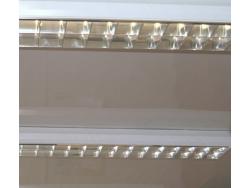 Our Hygienic Plastic Ceiling Cladding is an interlocking PVC plank system, specifically designed for catering and clinical ceilings.
---
********* Call us: 0114 244 6357 *********
********* Email us: sales@hi-plas.co.uk *********
The Ceiling Cladding System
Our interlocking plank system is specifically designed for your ceiling. Each plank interlocks into the previous one, hiding all the fixings as they go and forms one rigid, flat, flush single surface.
A thin flange runs along the length of the plank on the upper surface. This is screwed through into each ceiling joist above (or whatever structure they are being fastened to). Each plank hides the fixings of the preceeding one.
In the right circumstances, these planks can also be fitted to walls or partitions. Full but simple instructions are included with every project.
The Ceiling Applications
Ceiling Cladding is suitable for all food processing, production and catering areas such as:
Take-Aways and Fish and Chip Shops
Pub, Hotel and Restaurant Kitchens
Caterers
Butchers, Abattoirs and Cutting Plants
Milking Parlours and Dairies
All Clinically Clean Areas
Veterinary Surgeries
Hi-tech Workshops and Vehicle Linings
Ceiling Cladding Benefits
Class 1 Fire Rating
Conforms to the latest European Food Hygiene Regulations
Ideal for the professional or DIY installer
Smooth; easy to keep clean and disinfect
Cost Effective and creates an ideal working environment
Increased working efficiency
Specified by food officials
How to buy Ceiling Cladding
With many years experience in supplying quality cladding throughout the UK, our reputation is built on your success. We can offer free estimations from plans (even basic ones), next day delivery from stock and expert advice from concept to completion.
For more information on our ceiling cladding plank system or a price, e-mail us via our contact form or give us a call on 0114 244 6357.
Hygienic Plastic Ceiling Cladding purchase details and options
Options
Price
Purchase
C24HD3 - 3m x 250mm Heavy Duty White Ceiling Plank (Class 1 Fire
£9.57
(excl VAT)
C24HD5 - 5m x 250mm Heavy Duty White Ceiling Plank (Class 1 Fire
£15.95
(excl VAT)
C25HD - 5m Heavy Duty Ceiling Plank J Edge Trim (Capping Strip)
£6.00
(excl VAT)
C26HD - 5m Heavy Duty Ceiling Plank H Joint Trim
£6.50
(excl VAT)
C34 - 0.5" Stainless Steel Screw (Bag of 100)
£2.15
(excl VAT)

0114 244 6357
Hygienic Plastics Ltd, Unit 3, Carbrook Business Park, Dunlop street, Sheffield S9 2HR