Ligno Textured Decorative Wall Panels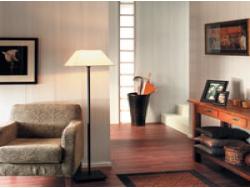 Ligno Textured Decorative Wall and Ceiling Panels. Neutral colours, but with a grained, textured feel, for a crisp, clean finish.
---
Ligno Textured Decorative Wall and Ceiling Panels.

One of our most interesting ranges of decorative wall panels, Ligno has a grained, textured feel. Rather than being a smooth flush fit, this range has a 'V-Groove' for added interest and texture. This range has been designed specifically to "accentuate the joint" between the panels emphasising the overall 'tongue and groove' effect. This makes it ideal for creating feature walls or for highlighting specific areas within a room. The vertical striped design of Ligno helps to create a real sence of definition and means it is well-suited for half-room designs (i.e, under or above dado rails).
Our Ligno range of decorative wall panels is available in four neutral colours:- Vanilla, Ochre, Blue or Beige, and being Class 1 Fire Rated, waterproof and maintenence free makes it suitable for use in kitchen, shower and bathroom design.
The Ligno decorative wall panels are suited to both contemporary and classic design and will result in a crisp, clean, cool and sophisticated finish.
We are happy to send out 2 Free Samples of any of our decorative wall and ceiling panels. Simply click on the link below to send us the ranges and colours of your choice and your contact details.
---
---
Vanilla Ochre Blue Beige
Ligno Textured Decorative Wall Panels purchase details and options
Options
Price
Purchase
Ligno Textured Planks (10 x 2.6m x 100mm Wide Per Pack)
ONLY £30.00
(incl VAT)
Ligno Textured Planks (4 x 2.6m x 250mm Wide Per Pack)
ONLY £44.20
(incl VAT)